My mixed media pieces are combinations of snips of paper against rich backgrounds to create something entirely new–and sometimes reminiscent of something old.
I've always been interested in how it's possible to take snips of paper from different places and arrange them into something new. It feels like a metaphor for what we do all the time in life–assembling our different thoughts and feelings and experiences into the life we create every day.
My undergraduate degree is from Harvard, where I studied Medieval History and Literature, mostly because I was obsessed with the Unicorn Tapestries at the Cloisters. While my major has ended up being exactly as useful as I had expected, my collages have given me a new outlet to explore medieval tapestry. Many of my collages borrow subject matter, color scheme, and even the idea of weaving from these tapestries. My interest in fairy tales, childhood innocence, time, and the juxtaposition of reality and fantasy also find their way into my work. All collage images on this site are copyright by Laurie Miller Hornik. All rights reserved.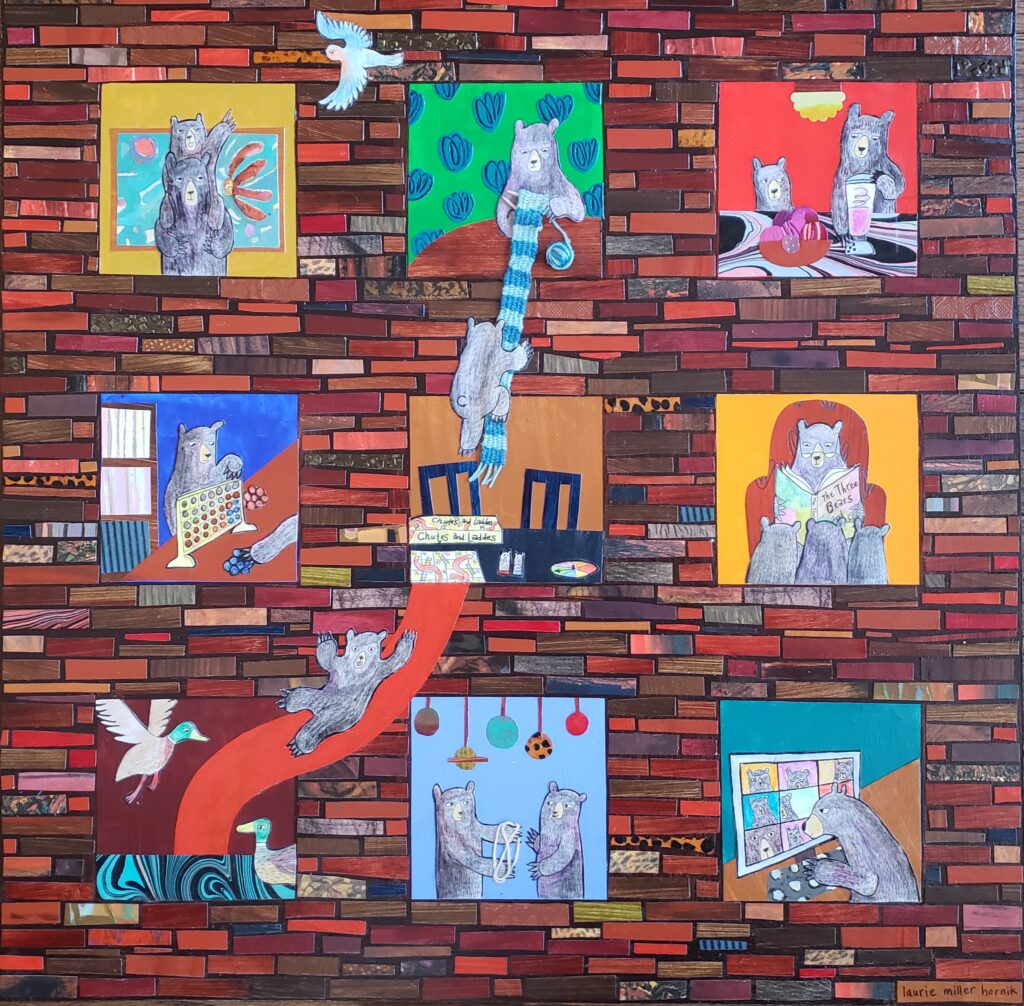 Chutes & Ladders, Laurie Miller Hornik
Art Shows
Ongoing
Tannersville Pop-Up Market
6055 Main Street, Tannersville, NY
Open every Friday, Saturday, and Sunday
August 12 – September 17, 2021
Here, There, and Everywhere
RIverfront Art Gallery
One Larkin Center, Yonkers, NY
May 15 – June 12, 2021
Colors of Spring
Blue Door Art Center
13 Riverdale Avenue, Yonkers, NY
February 28 – March 28, 2020
Shattered Glassworks
Blue Door Art Center
13 Riverdale Avenue, Yonkers, NY
May – June, 2019
Transformations: Four Yonkers Artists
Philipse Manor Hall Community Art Gallery
29 Warburton Avenue, Yonkers, NY
May – June, 2019
Those Who Teach
Riverfront Art Gallery
1 Larkin Center, Yonkers, NY
March 30 – May 27, 2019
Recycle, Reuse, Restore
Blue Door Art Center
13 Riverdale Avenue, Yonkers, NY
October – November, 2018
Collage Fantastic: Mixed Media Paintings by Laurie Miller Hornik
Solo Show
Gallery 18 at the Riverdale Y
5625 Arlington Avenue, Bronx, NY
www.riverdaley/community/gallery1
June – July, 2018
Paperworks
Upstream Gallery
8 Main Street, Hastings, NY
upstreamgallery.com
June – July, 2018
Threadworks
Blue Door Art Center
13 Riverdale Avenue, Yonkers, NY
February – March, 2018
Women by Women
Blue Door Art Center
13 Riverdale Avenue, Yonkers, NY
January, 2018
Small Works
Upstream Gallery
8 Main Street, Hastings, NY
upstreamgallery.com
July, 2017
Windham Arts Association Art Fest
Christman's Windham House Lawn
Route 23, Windham, NY
June – July, 2017
Paperworks
Upstream Gallery
8 Main Street, Hastings, NY
upstreamgallery.com
August – September, 2016
Collage Fantastic – solo show
Gallery 18 at the Riverdale Y
5625 Arlington Avenue, Bronx, NY
June – July, 2016
Putting it All Together: Assemblage & Collage
Blue Door Art Center
13 Riverdale Avenue, Yonkers, NY
July, 2016
Windham Arts Association Art Fest
Christman's Windham House Lawn, Route 23, Windham, NY
July, 2015
Windham Arts Association Art Fest
Christman's Windham House Lawn, Route 23, Windham, NY
March, 2014
Ludlow Park Residents Association Art Show
Yonkers, NY
November, 2014
Faculty Art Show
Ethical Culture Fieldston School, Bronx, NY